4-days online workshop was organised by Biyani Girls BEd College entitled "Construction and validation of Data gathering Tools and Analysis and Interpretation of Data" from 21 July to 24 July 2021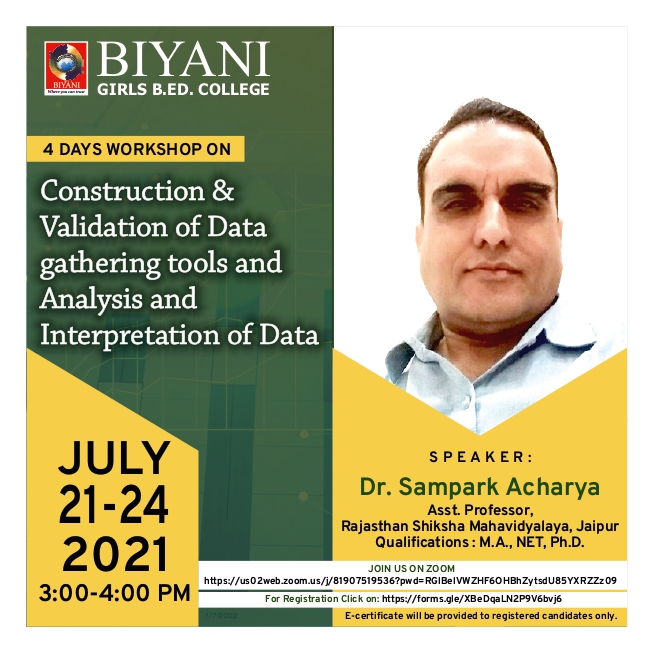 ---
IQAC cell, Biyani Girls College organized a "National Seminar on Quality Enhancement Strategies For NAAC" on 01 March 2021 (Monday).
---
Group discussion on राष्ट्रीय शिक्षा नीति 2020में भाषाई प्रावधान by MEd students on 18 Feb 2021
---
Join 2 Days online workshop on ANOVA: ANALYSIS AND INTERPRETATION USING SPSS by Dr. Manvinder Singh Pahwa, professor of Finance, manipal university, Jaipur
Date:9 JAN to 10 JAN 2021
---
It's our immense pleasure to Host Padma Shri Gulabo Sapera Ji at our college campus
---
India-Japan Fest BICON-2020 Virtual Conference on THE NEW NORMAL Industry-Academia Alliance in the Post COVID-19 Era December 17-19, 2020
---
Award Ceremony to facilitate the Gold Medal winners of University of Rajasthan, 2019 examinations.
Biyani Girls BEd college
Sonu Kumari (M.Ed)
We are PROUD OF YOU .
---
Student Development Programme held on 4 January 2020
---
Workshop on Teaching Aids organised by M.ED students in December 2019
---
5Days National Webinar on Value Education for universal happiness ,organised by IQAC cell of Biyani Girls BEd College