"BICON 2022-23" A few glimpses of the closing ceremony of the 5-day international conference and Indo-Japan Fest BICON. It was a great privilege to hear Prof. (Dr.) Rajeev Jain, Vice Chancellor, University of Rajasthan at the closing ceremony of BICON 2022-23. The conference witnessed more than 50 speakers and thousands of students. Biyani family wholeheartedly thank all the students, teachers and staff members for making the event a great success.
---
Biyani B. Ed College organized the Fresher's Party "Aarambh" 2022. The purpose of the event was to welcome new students in a friendly atmosphere and to encourage their creative impulses to boost their confidence. Biyani Group of Colleges extends its warm welcome and wishes them all the best for their new journey.
Checkout some glimpses from the event……
Checkout some videos glimpses from the event……
---
We are glad to inform you that IQAC Cell of Biyani Girls B.Ed College has organized a 2-Day NAAC Sponsored National webinar entitled "Impact of Technology on Social and Educational Perspective in India during Pandemic Situation" on 18 -19 July 2022.
Here are some glimpses from the 1st Day of the Seminar.
---
IQAC Cell of Biyani Girls B.Ed College organised a Seminar on IPR on 26 April 2022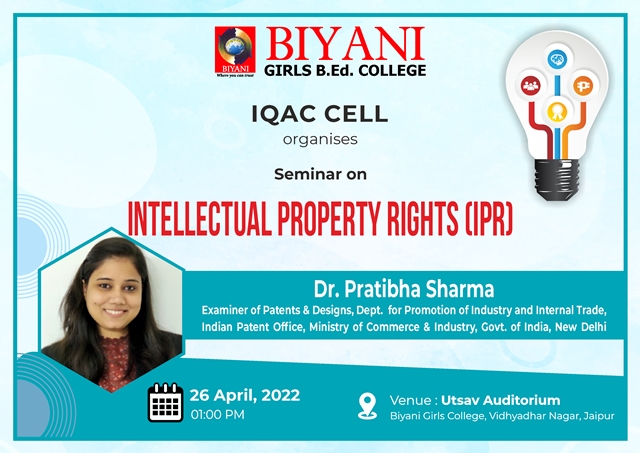 ---
Biyani Girls B.Ed College organized ICSSR sponsored National seminar titled "Methods of Measuring and interpretation of outcomes in educational and social research "on 14 and 15 April 2022 . The opening remark was given by Prof. Manish Biyani. The chief guest was Prof. P. C. Trivedi, Former VC (JNVU), Jodhpur. In the seminar, various topics like the concept and ethics of developing a research tool, the introduction of different types of data collection instruments, the Process of construction of standardized tools, scientific management styles of referencing, measurement errors in educational research were discussed by Dr. Harjeet Kaur (Jamia Millia Islamia, Central University), Dr. Devika Agrawal (Biyani group of colleges), Dr. Deepak Kumar Gupta,(Data analyst C.E.O. CDART private limited.), Prof. Anjali Sharma(Head, Education department Central University, Kishangarh), Dr. Sampark Acharya(Rajasthan Shikshak Mahavidyalay).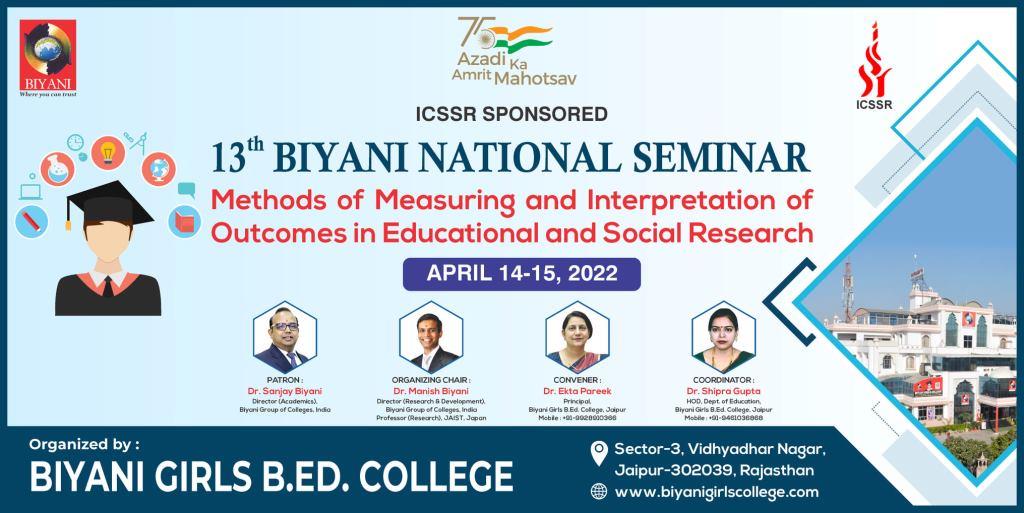 ---
"The self-controlled soul, who moves amongst sense objects, free from either attachment or repulsion, he wins eternal Peace"– Lord Krishna
Biyani Group of Colleges celebrated its 16th annual day "Krishnayan" with the theme of Lord Krishna reflecting on his life and lessons, in presence of Chief Guest Mr.Pratap Singh Khachriyawas, Cabinet Minister, Govt. of Rajasthan. Students from different departments represented various life stages of Krishna through Dance, Music, and Fashion show. It was an evening full of joy, energy, beauty, and learning. Prizes were distributed to the academic toppers and Stars of the year in various categories.
Here are the glimmers of the eve.
---
A three-day workshop 'Student Development Program' and 'Faculty Development Program' was conducted in the Biyani Group of Colleges by Prof. PN Mishra who has multiple years of academic and corporate experience. Students and faculties were enlightened with Indian management reflections and were given the knowledge about publishing papers in UGC-recognized journals.
Sharing some memories from the vibrant event
---
4-days online workshop was organised by Biyani Girls BEd College entitled "Construction and validation of Data gathering Tools and Analysis and Interpretation of Data" from 21 July to 24 July 2021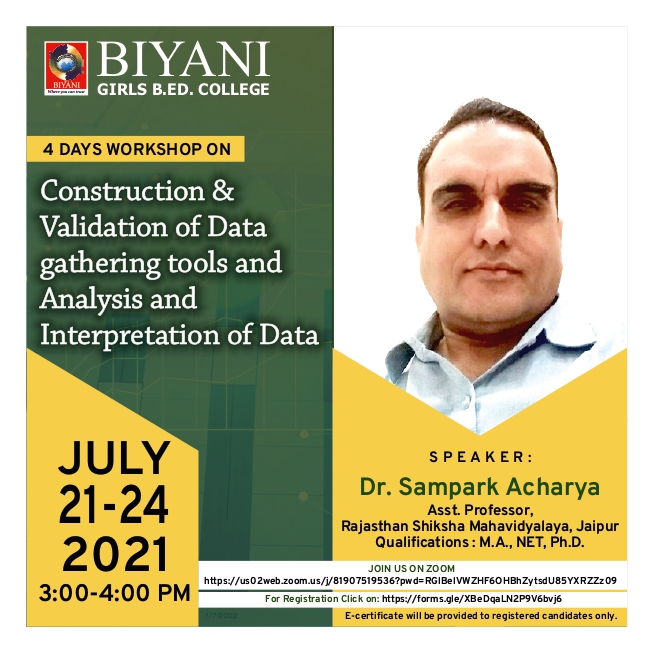 ---
IQAC cell, Biyani Girls College organized a "National Seminar on Quality Enhancement Strategies For NAAC" on 01 March 2021 (Monday).
---
Group discussion on राष्ट्रीय शिक्षा नीति 2020में भाषाई प्रावधान by MEd students on 18 Feb 2021
---
Join 2 Days online workshop on ANOVA: ANALYSIS AND INTERPRETATION USING SPSS by Dr. Manvinder Singh Pahwa, professor of Finance, manipal university, Jaipur
Date:9 JAN to 10 JAN 2021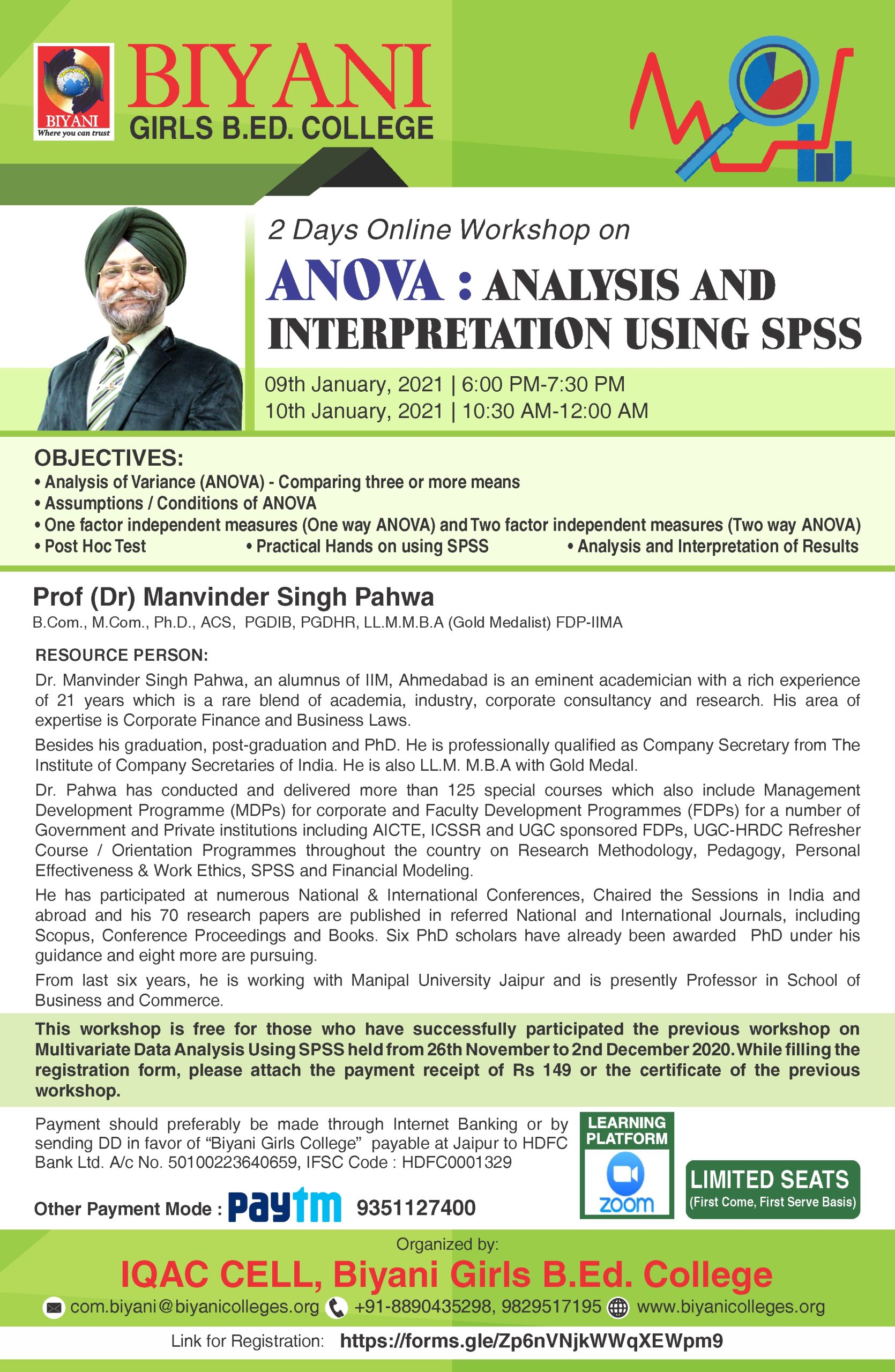 ---
It's our immense pleasure to Host Padma Shri Gulabo Sapera Ji at our college campus
---
India-Japan Fest BICON-2020 Virtual Conference on THE NEW NORMAL Industry-Academia Alliance in the Post COVID-19 Era December 17-19, 2020
---
Award Ceremony to facilitate the Gold Medal winners of University of Rajasthan, 2019 examinations. Biyani Girls BEd college Sonu Kumari (M.Ed)
We are PROUD OF YOU .
---
Student Development Programme held on 4 January 2020
---
Workshop on Teaching Aids organised by M.ED students in December 2019
---
5Days National Webinar on Value Education for universal happiness ,organised by IQAC cell of Biyani Girls BEd College