ABHIVYAKTI – 2023 was organized by Biyani Girls B.Ed. College, Jaipur on 10-11 March 2023. The theme of the program was "Save Nature"
On Day -1 activities include Role play competition, a singing competition, and exploring yourself
On Day -2 a session on the Role of Art in Society was taken by Dr. Ramakant Gautam, Fancy dress competition, Solo dance, and Group dance.
---
Glimpses of performances held at Navyayan – Dandiya Nights on 01-Oct-2022!
---
Rangotsav 2022. Here are the colors of Holi celebrations in campus on the beats of dhol, colors and thandai. May the colors of Holi come with positive energy and make our life cheerful and happy!
---
College life will give you much more than just a degree – get ready for all the adventure!
Biyani Girls BEd College welcomed the freshers with thoughts, ideas, and motivation for the challenges and adventures on the way of their college life.
Sharing some highlights of the very energetic and beautiful event.
---
Biyani Girls B.Ed College kickstarted the session by conducting an Orientation program to introduce Freshers to the college and boost their morale. Looking forward to a year full of energy, enthusiasm and leanings.
Here are the glimpses of the event!
---
Freedom of thought, strength in our convictions and pride in our heritage.With this feeling in our hearts, we celebrated our 73rd Republic Day.
Have a look at the Republic Day celebrations in Campus.
---

A man is the sum of his actions, of what he has done, of what he can do, nothing else- Mahatma Gandhi
May the spirit of truth and non-violence be with us this Gandhi Jayanti.
Glimpse of Gandhi Jayanti celebration at Biyani Campus on 2nd October 2021.
---
To celebrate the great teachers who have planted seeds that will last a lifetime, Biyani Girls BEd College celebrated Teacher's Day on 5th Sept 2021
---
"Phagotsav-2021" celebrated by Biyani Girls BEd College
---
Freshers Party Biyani Girls B.ED College on 24 February 2021
---
Student Orientation Program OORJA 2020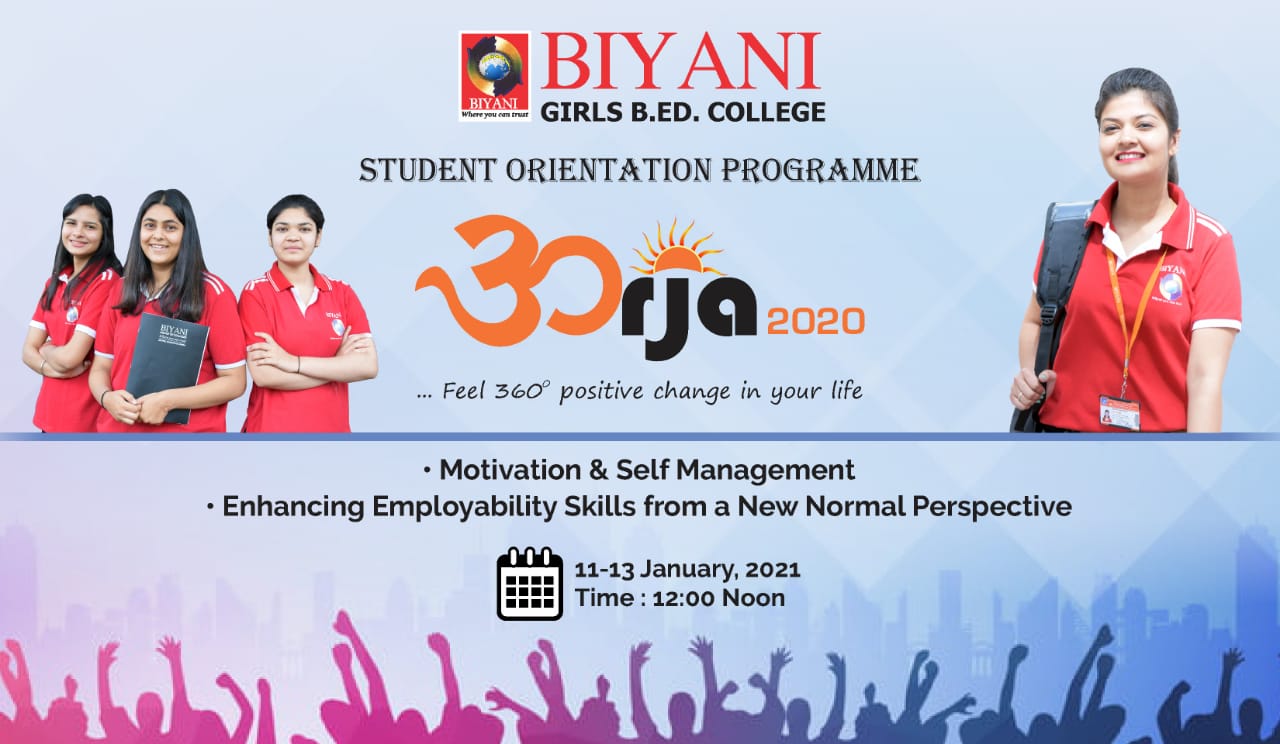 ---
Inter College Rajjay held on 22 Nov 2019